Keeps the Conversation Personal.
Cue equips individuals with personalized communication tools and educational content.
EARLY SKETCHES, INSPIRATION & RESOURCE
NY TIMES & THE ATLANTIC ARTICLES FROM 2020 - 2021
Social Awareness
The Problem
Older adults and those with medical conditions need to easily connect to concerned loved ones without having the difficulty of navigating modern technology.
About the project
Why Alzheimer's?
In 2020, the pandemic shown a light on a broken care system, impacted those who are 65 and older the most, reducing contact among family and friends.

According to research, the leading death in the United States is Alzheimer's. As the population continues to age, the disease will increase. Past treatments have been a one-size-fits-all approach and it's time to take a more personalized approach as everyone is unique.

In 2016, someone close to me was officially diagnosed with Alzheimer's. In previous years, she was showing symptoms. Experiencing such hardship has shown me the frustrations of older adults and the growing concern of the disease. These stigmas can be reduced, causing unneccessary anxieties and depression around aging and medical conditions.

EXISTING PRODUCTS
BRAINSTORM & SYNTHESIS
Research

Assumptions
How can we meaningfully connect families and friends to those diagnosed with Alzheimer's in an enriching manner?

What is our best avenue towards building a positive social engagement experience?

What will a post-virus world look like for the aging?

What does the market want in this space?
SURVEY INSIGHTS
Landscape analysis & user problems

Challenges
The first major task at hand was understanding the existing platforms, both related and unrelated. How are people currently using products to solve similar problems?

The user research consisted of 21 participant surveys and 7 user interviews. I had the opportunity to speak with friends and family members associated with those diagnosed with Alzheimer's, those associated with carers and most importantly carers.

After the research, surveys and interviews, I was able to apply different lenses and break down the experience into stages and map out the feelings, thoughts and actions of individuals with Alzheimer's and carers. While envisioning the product to be additional care support these were the gathered insights:

1. Family members are often forced into a carer role. The instituitions and carers both lack funding and meaningful resources.

2. The myth around the aging and technology is false. Partcipants expressed enthusiasm for their aging loved ones and technology, but are continuously frustrated with the current devices and platforms. Products can be costly, difficult, irrelevant, oversimplified and lack personalized features.

3. Lack of adequate communication and tracking from institutions and carers only begets more frustration for all parties involved. These missed opportunities to track loneliness are important medical concerns and can be useful and a vital necessity to prolonging life both for the carer and individual with cognitive decline.

ALZHEIMER & CARER EXPERIENCE MAPS
Reseach insights
Goals
By matching goals with user goals the app needs to actively engage participation and educate in an effective way by:

1. Simplify roles and enrich activity
Creating a stress-free tech experience for the carers and aging will enhance the communication experience, avoiding the stress and providing an all-inclusive approach to connection.

2. Collaborate for clarity
Families, carers and institutions alike can properly use technology to bridge the gap between all parties while simultaneously making their jobs easier and more rewarding, enhancing an aspect of care for the aging.

3. Learning from 2020
2020 has increased awareness of all of the negative aspects of aging; loneliness, forgetfulness, loss of relationship and a sense of self. Can we eradicate these concerns through a considered approach to technological development?

4. Restoring & revising dignity
Transforming social interaction with the aging in a post-virus world is of strong interest to those who've experienced the frustrations of this past year. An excited and empowered market is waiting for a simple and effective tool.
QUALITY OF LIFE ECOSYSTEM MAP
Scope, patterns & explorations
Solutions
To help identify the opportunity spaces I mapped out the current care ecosystem to understand the key touchpoints and to help visualize what needs to change.

MOBILE PAPER PROTOTYPE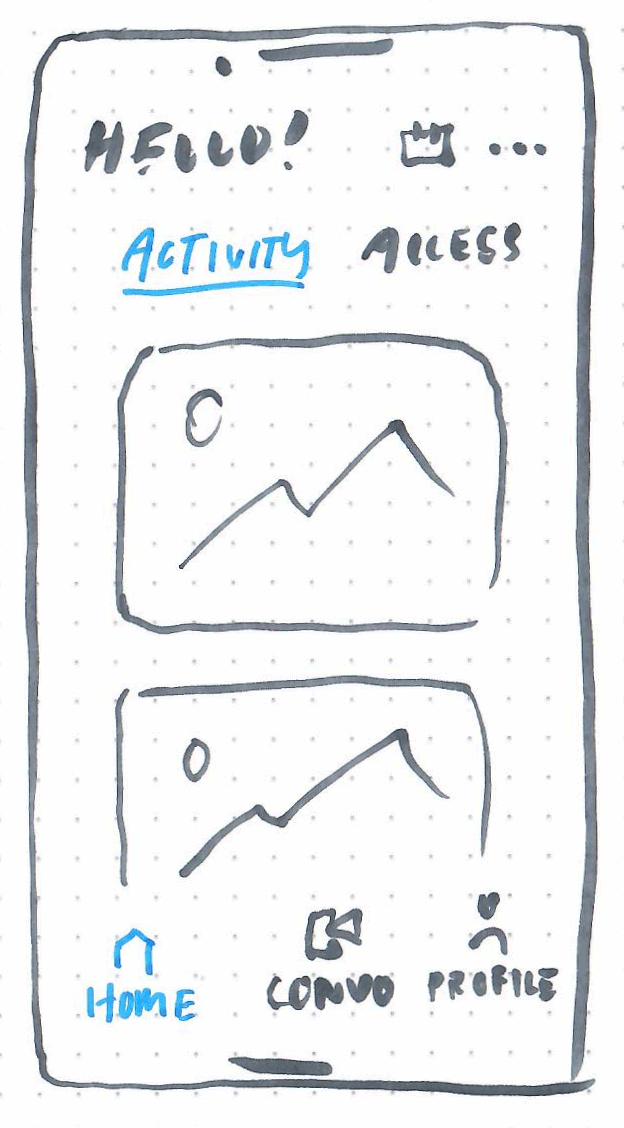 Hypothesis

Is this true?
Providing resources and a support service with the app, we will increase awareness on memory loss and deliver a personalized, helpful and exciting method of communication.

In order to find out if this is true/false, I needed a strong validation. To jumpstart conversations, a mobile concept paper prototype was used while interviewing participants to stimulate a conversation and gather feedback quickly. Some of my assumptions were quickly validated and the simple tests helped identify problems early, saving time for the next phases of design.
Feedback and usability tests
Starting early on with user testing, there were unique challenges to consider while addressing Alzheimer's. There was a rigorous set of criteria to begin testing and to ensure a thorough process towards a broader range of inclusion for the aging.

The feedback indicated how a home page, personalized content and video interactions could be improved.

Various iterations were tested as the ideas and designs kept evolving. Committing to a core set of features for the MVP became the greatest challenge.
EARLY MOBILE WIREFRAMES
PROTOTYPE EXPLORATIONS
MOBILE SITEMAP & SERVICE BLUEPRINT
Key features & interactions

Essentials
After setting up a foundation and building on the findings, I was able to make out essential user flows to help define the MVP.

I focused on educating and giving carers the information they need to take action. I was able to highlight these essential features:

Educational content and support
With the increase of an aging population and carers lacking adequate services and support, it was important that the educational content and support benefit both the carers and companions specific needs.

With the community feature, the carer can find helpful articles on the physical, emotional and financial strains of caregiving and reach out to the community for additional support.
MOBILE WIREFRAMES
Cues
Using methods from Cognitive Stimulative Therapy, the cues aim to provide personalized, structured conversations and activities that can improve brain activity.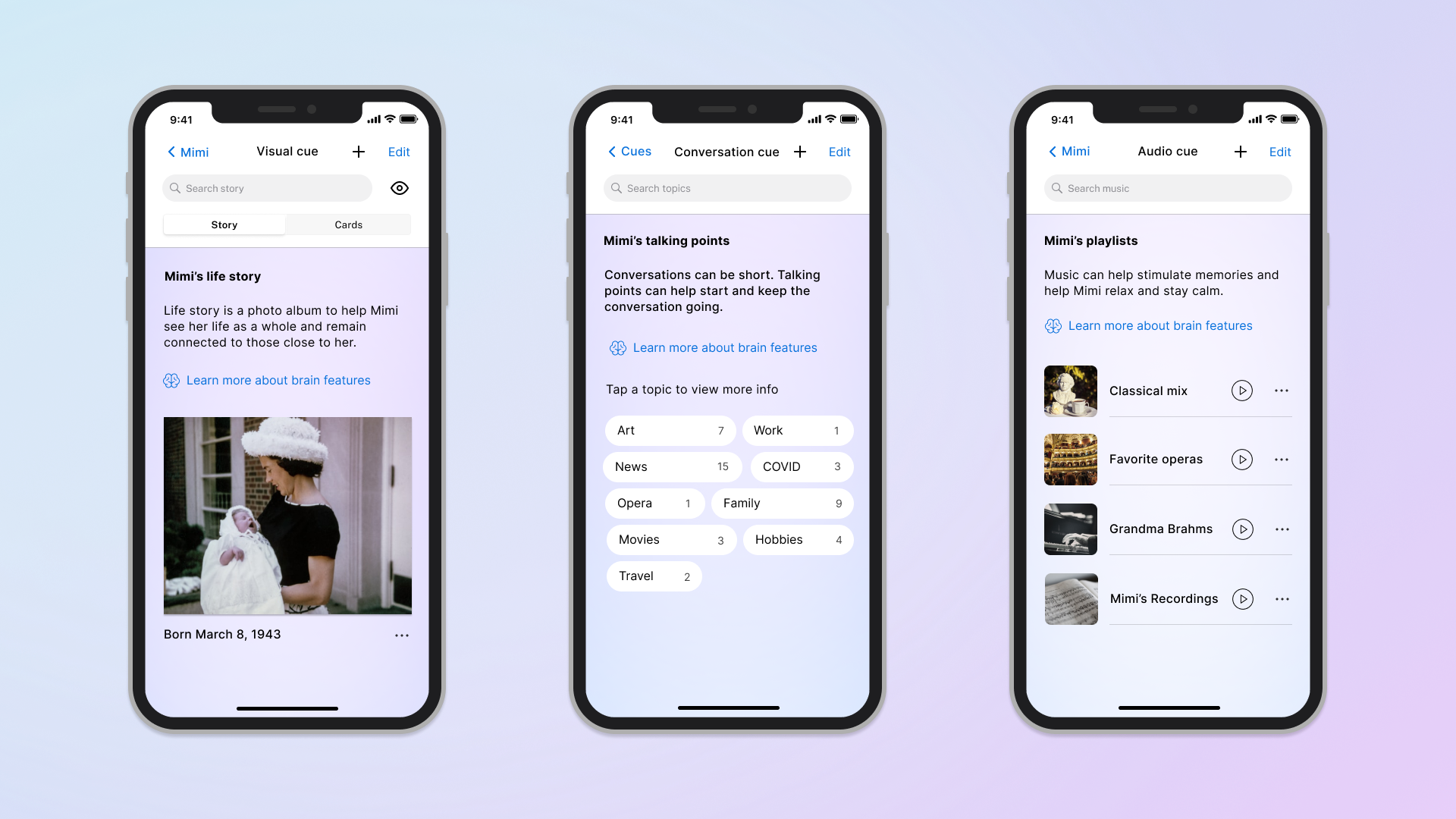 MOBILE WIREFRAMES
MOBILE WIREFRAMES
Digital biomarker
A digital biomarker helps to provide a more comprehensive look at the health of the individual. The mood indicator can help navigate and better communication. Quick access to personalized cues to help start and aid conversation.

Stages of Alzheimer's are different for everyone and monitoring social activity can help combat loneliness.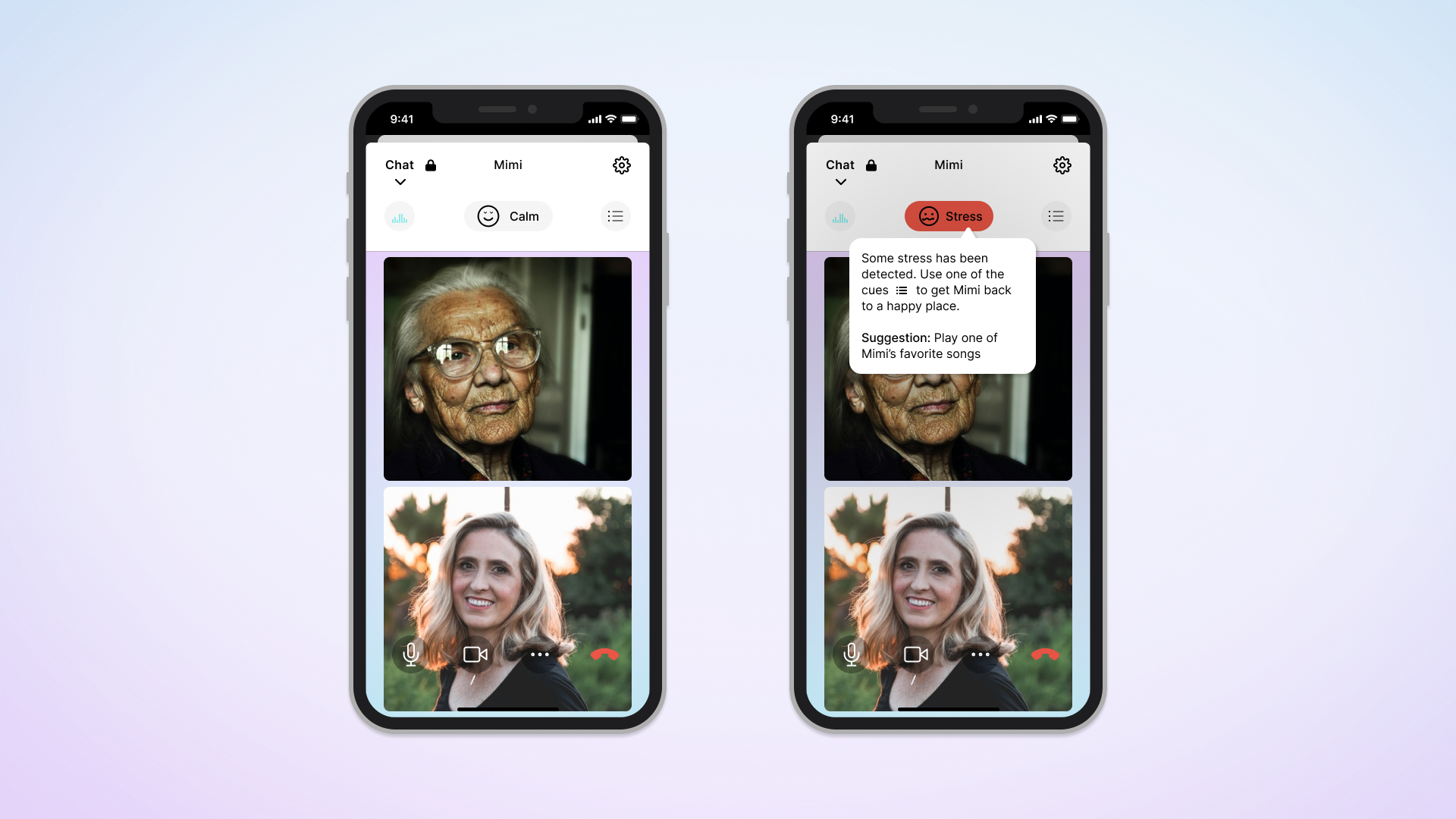 MOBILE WIREFRAMES
Defining success
Validation
How can we measure a successful meaningful experience with this app?

I had the opportunity to conduct usability tests with carers and share the designs with my cohort. The idea of having a communication app to help facilitate conversation was overwhelmingly well-recieved. In order to get a full measure of success, I would need to launch it in real life and measure the satisfaction of the experience and how often it gets used.

Lessons learned

Reflections
This project was really exciting as it provided real value to users, as well as research & experimental design work in this process for me. The scope of the project was constantly changing and I had to learn how to adapt and re-prioritize quickly. There's a lot to explore and consider in accessibility and inclusion which made it difficult to focus on a core set of features for the MVP.

Rethinking accessibility
The smartphone has become an essential tool for many. My experience with this project helped to realize a world where everyone can benefit from technological advances in health. I feel as though this is only the beginning of a new frontier in accessing complex health solutions.