Where people help each other.
Dispatch empowers you to help yourself and others nearby.
Design challenge
The Problem
A community of those affected by natural disasters feels overwhelmed, confused, and distressed about how to empower themselves and others to prepare and face a looming threat, avoid injury, death and property destruction.

About the Project

Why take action?
The rising concern of climate change has put the world on notice. The increasing number of deadly major weather events show no signs of slowing down. Underserved, diverse communities are often uninformed & ill equipped to survive a developing natural disaster in their area. History has shown that communities can no longer sit and wait on a Federal response, and action on a community level is a driver of positive impact.

Rural, depressed and poverty-stricken communities have proven to bear the worst of damage from hurricanes, earthquakes, tornadoes and other natural disasters. Communication barriers, subpar preparedness and poverty itself are hurdles to effective messaging and timely assistance.
RESEARCH
Research

Assumptions
What makes a meaningful impact and encourages user engagement?

How might a community come together and reduce the impact of a natural disaster?

What good is knowledge in the face of a disaster?

NATURAL DISASTER JOURNEY MAP & USER GROUPS
Disaster problems & user problems
Challenges
Taking a deep dive into understanding the ins and outs of natural disaster situations and finding out what gets an individual to take positive action, these were the major discoveries:

1. We don't plan until it's too late
Discovering natural disasters are becoming more common in the United States. Rarely is there pre-planning, pre-fundraising or a pre-agreement on a plan. In general, we don't plan enough for disasters largely because we've assumed it's been taken care of.

2. An emergency is compromised by barriers
An early response can prevent suffering and can create a more resilient and sustainable community. The current emergency response lacks an efficient structure of communication, inclusion and accessibility.

3. Disasters don't impact people equally
Strategies often fail because information does not flow effectively to those who need it most, and decisions can be detrimental to time constraints. There are many overlooked vulnerable communities impacted by disasters and Federal aid isn't necessarily given to those who need it most.

4. Helping others gives a sense of purpose
Recovering from a natural disaster seems impossible but reaching out to strangers in your community turns out to be less of a burden. People naturally want to help, especially when large events occur.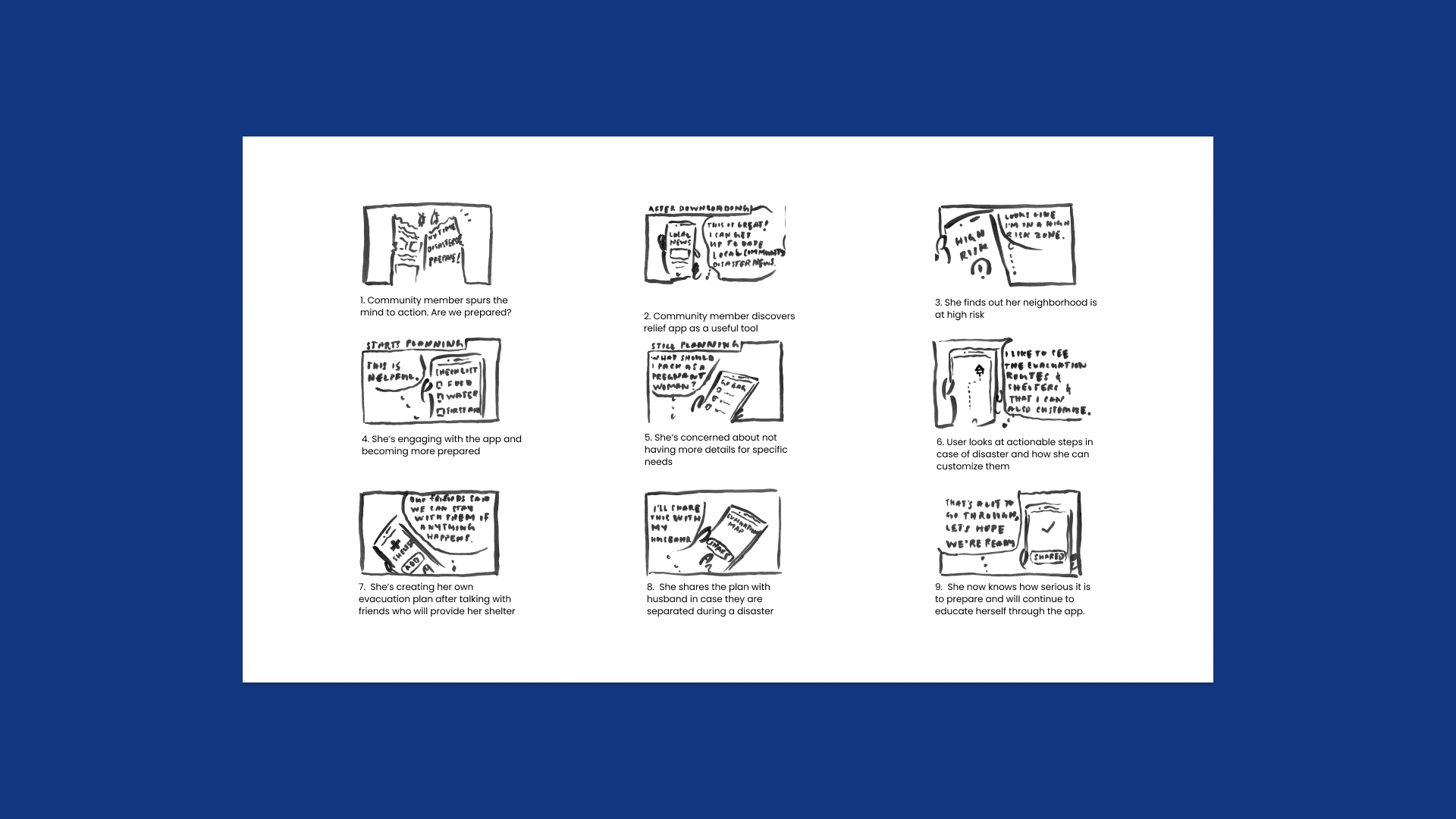 STORYBOARDS
Setting the direction
Objectives
Providing a way to coordinate community led-efforts to respond to natural disasters will be more effective by streamlining local led activities and increasing community engagement as they wait for American Red Cross and other organized groups to come in to assist.

Thinking about the experience of people using the app in a natural disaster, I wanted to create a natural disaster relief app that accomplished these goals:

1. Reduce the complexities of getting natural disaster relief

2. Support and empower individuals to take positive action

3. Expand help and restore communities
EARLY MOBILE WIREFRAMES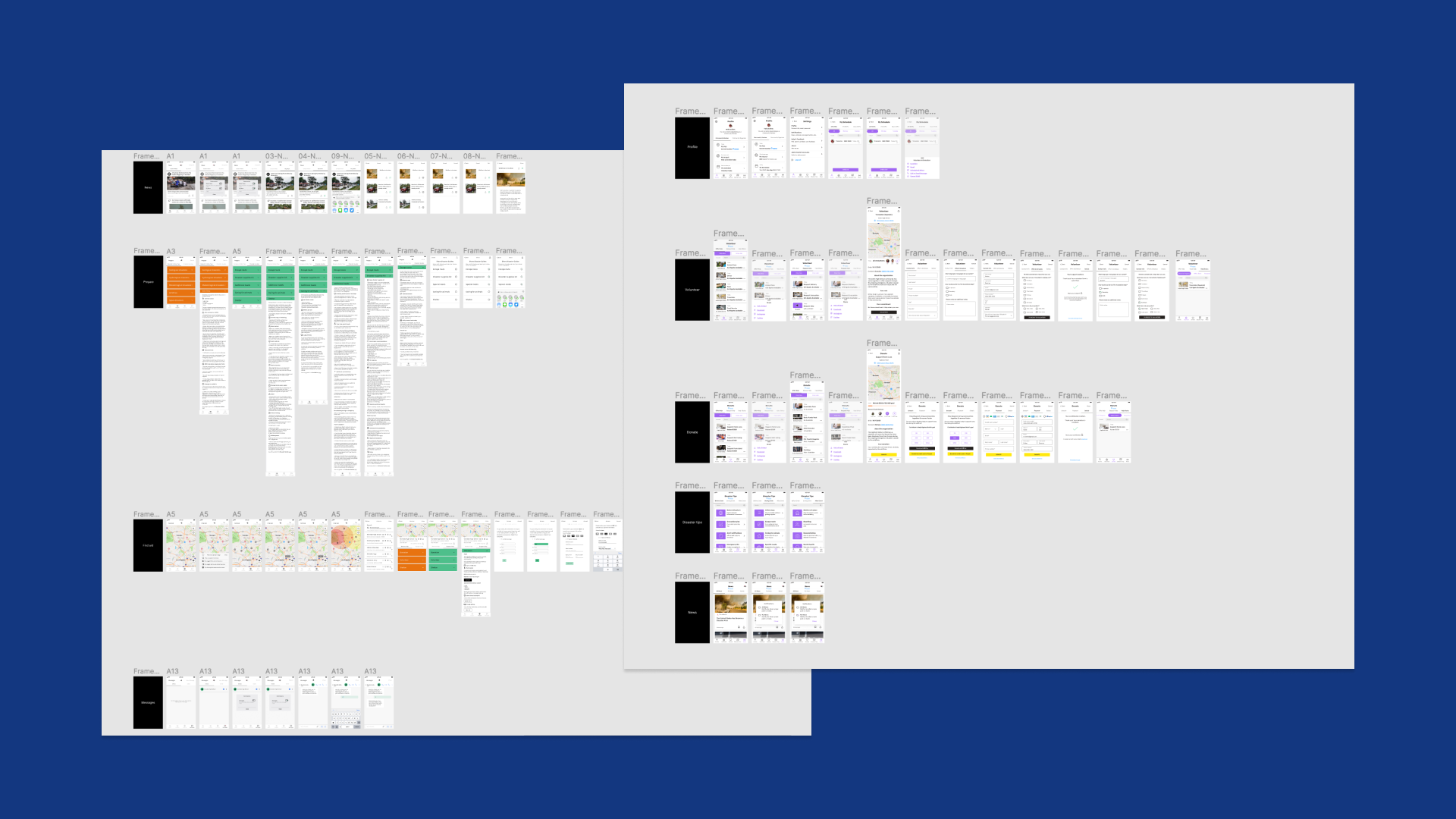 PROTOTYPE EXPLORATIONS
Feedback & explorations

Solutions
The process became a lot of trial and error to make an effective tool that didn't take up a lot of time. The first few iterations felt overwhelming for those seeking or organizing help. In order to stay on track I needed to identify and explore the possible solutions further. The peer feedback helped validate, elaborate and refine the ideas.

The simple task flows helped clarify user interactions. This helped to highlight the essential user features. The essential features: social media, interactive map, volunteer and donation needs and a rapid support connection.

User stories & task flows:
As someone who wants to help, I want to be able to see what's needed nearby so I can restore the community as quickly as I can.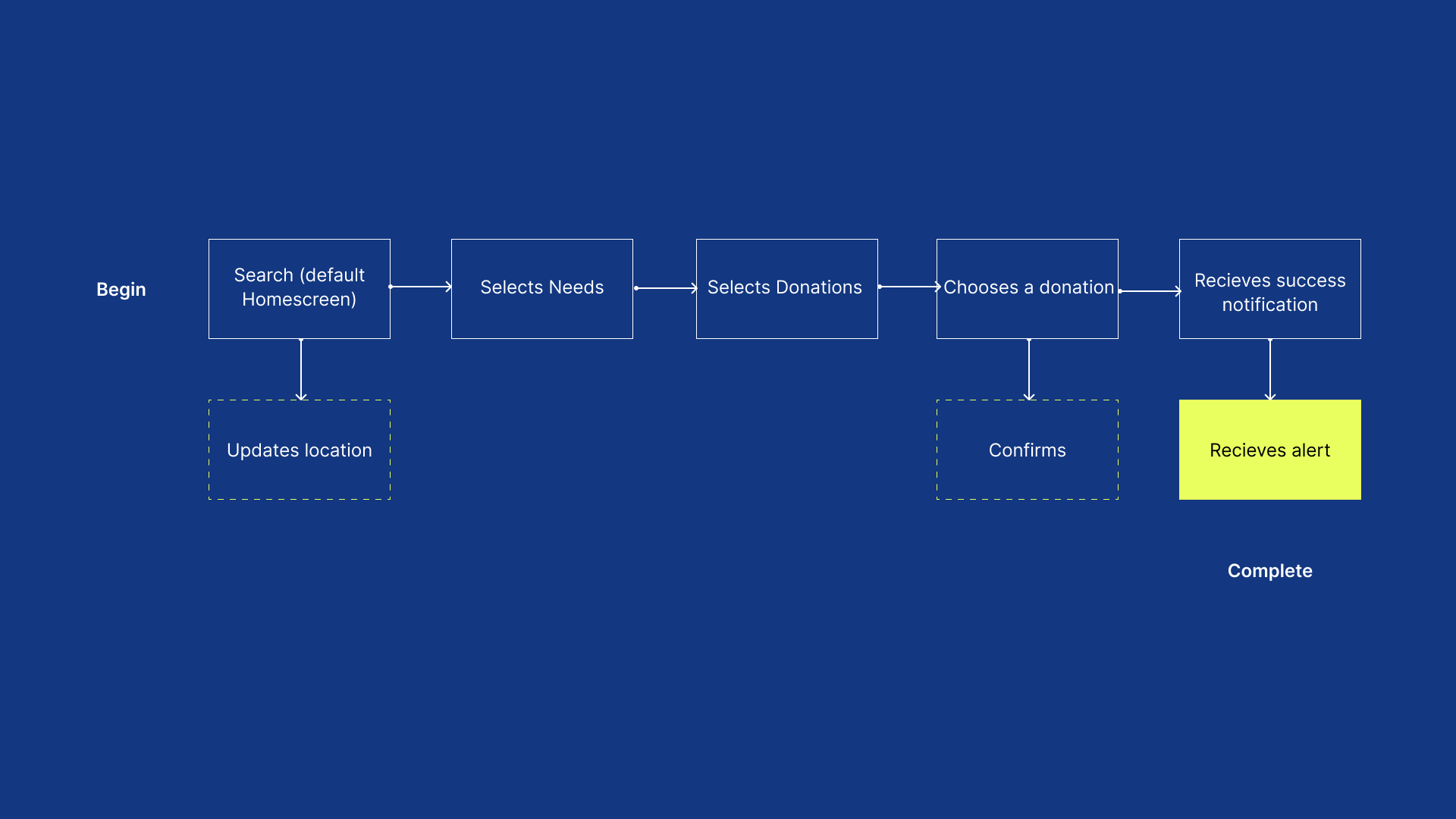 TASK FLOW
As someone who needs help, I want to reach someone nearby so I can recover quickly.
TASK FLOW
As someone who wants to coordinate help, I want to share up-to-date information so I can be effective in helping the community.
TASK FLOW
Key user features

Essentials
Thinking of my three initial goals, I came up with this final iteration. The exploration has been inspired by living in NYC and the rise of urban sharing.

By putting the map front and center it allowed utilization for relief success while still maintaining accessibility to critical information and getting the rapid support connections needed in the area.
MOBILE WIREFRAMES
It was important to integrate social media to expand the help network. Not only could someone share critical information, but they could also invite people to Dispatch.
MOBILE WIREFRAMES
Individuals can toggle between volunteers and donations to connect with and see needs in the area nearby.
MOBILE WIREFRAMES
Hypothesis & goals
Validation
Was I able to validate the hypothesis? Not entirely. It's a good start and I was able to get great feedback from my cohort, it must be tested by users and most of all put into a real life natural disaster situation.

In order to meet the goals, I would need to measure the primary use of the app, the amount of successful volunteers and donations. Other measures could be how often information is shared across social media channels and how many users are actively engaged.

Collaboration

Reflections
Although this was an individual project, it was important that the cohort came together and shared their thoughts, iterations and expertise in the feedback and brainstorming sessions. Together, we brought insights and ideas that made our experience and applications that much stronger.

A major challenge for me was not focusing on the digital platform itself and what UX can do, but instead realizing how the design can be better situated to increase togetherness in a community and provide critical information.