Chef-driven quality foods delivered to your door.

Natoora reimagines food for people, communities and the planet.
EARLY SKETCHES
Design challenge
The Problem
The current online grocery shopping experience doesn't always support all the needs of customers.

About the project
Why redesign?
Never have people thought so much about their diet, this can be limiting gluten, sugar, meat and more as we begin to become more aware of food and the impact it has on ourselves and the environment.
The pandemic has changed our day to day. Up until the outbreak and economic shutdown, Natoora was exclusively available to chefs & purveyors. For the first time, Natoora has been made available to everyone.

MOBILE CONCEPT PAPER PROTOTYPES



Research

Assumptions
What design matches user's mental model?

How does presenting dietary options impact user engagement?
Mental models, user & Natoora problems

Challenges
Although Natoora has a strong mission and offers interesting products for businesses, there were clear limitations to what it offered the general public.

The concept prototypes helped initiate conversation, understand mental models and find opportunitities. It was important to talk to current users, those who are familiar with getting groceries online and new users. I was able to interview and conduct usability testing among five participants.

After looking at the existing landscape and analyzing the interviews, I saw these as main challenges:

1. Bridging the convenience gap in-store and online
Consumers are used to getting the products they want, comparing products and educating themselves in-store. While navigating online can be difficult, products are uninformative and availability is unpredictable.

2. Healthy is not enough
Not only food allergies and intolerances are a growing health concern, consumers are increasingly wanting to know how their food is produced, causing a high demand of tailored products to meet consumer needs.

3. User generated community
Consumers often trust and rely on their health and fitness professionals, family and friends to get information about which foods to eat or avoid.

CONSUMER STORYBOARD
Approach & purpose
Project Strategy
Inspired by Natoora's work, I took on the challenge to illuminate the mission of the company, elevate the user-friendliness of the app and make it more accessible to the unique needs of the public without abandoning the core users, like chefs and purveyors.

To best understand how the product helps achieve it's business goals, I came up with these guiding principles:

The Natoora app will lead to an engaging, impactful, and rewarding way to shop for groceries weekly.

The product shop screen of the Natoora app educates new customers to select curated products with an informative, accessible, and transformative way to shop for groceries weekly.
CONSUMER JOURNEY MAP
Hypotheses and
measuring success

Metrics
To make sure the redesign stayed in line with the user goals and business goals, these metrics were defined by the key themes:

1. We'll know if the newsfeed educates to select curated products with transformative by measuring: featured or dietary products purchased, engagement of how many users read or save posts, and opens app from push notifications.

2. We'll know if the shop screen educates to select curated products with accessible by measuring: time spent browsing, users adding filtered products to order and clicks on products (clicking for further details).

3. We'll know if the order screen educates to select curated products with informative by measuring: new or featured product purchases, re-ordered products, how many orders based off of dietary restricitions and preferences.

UI FLOW SKETCH
User flows & explorations
Solutions
After analyzing the existing user flows, I explored user stories with the problems found and created these key task flows for the customer:

As a customer, I want to know where my food comes from so I can make better decisions.


TASK FLOW
As a customer, I want to tailor my groceries so I can be healthy.
TASK FLOW
As a customer, I want to quickly locate what I need so I can get my order in as soon as possible.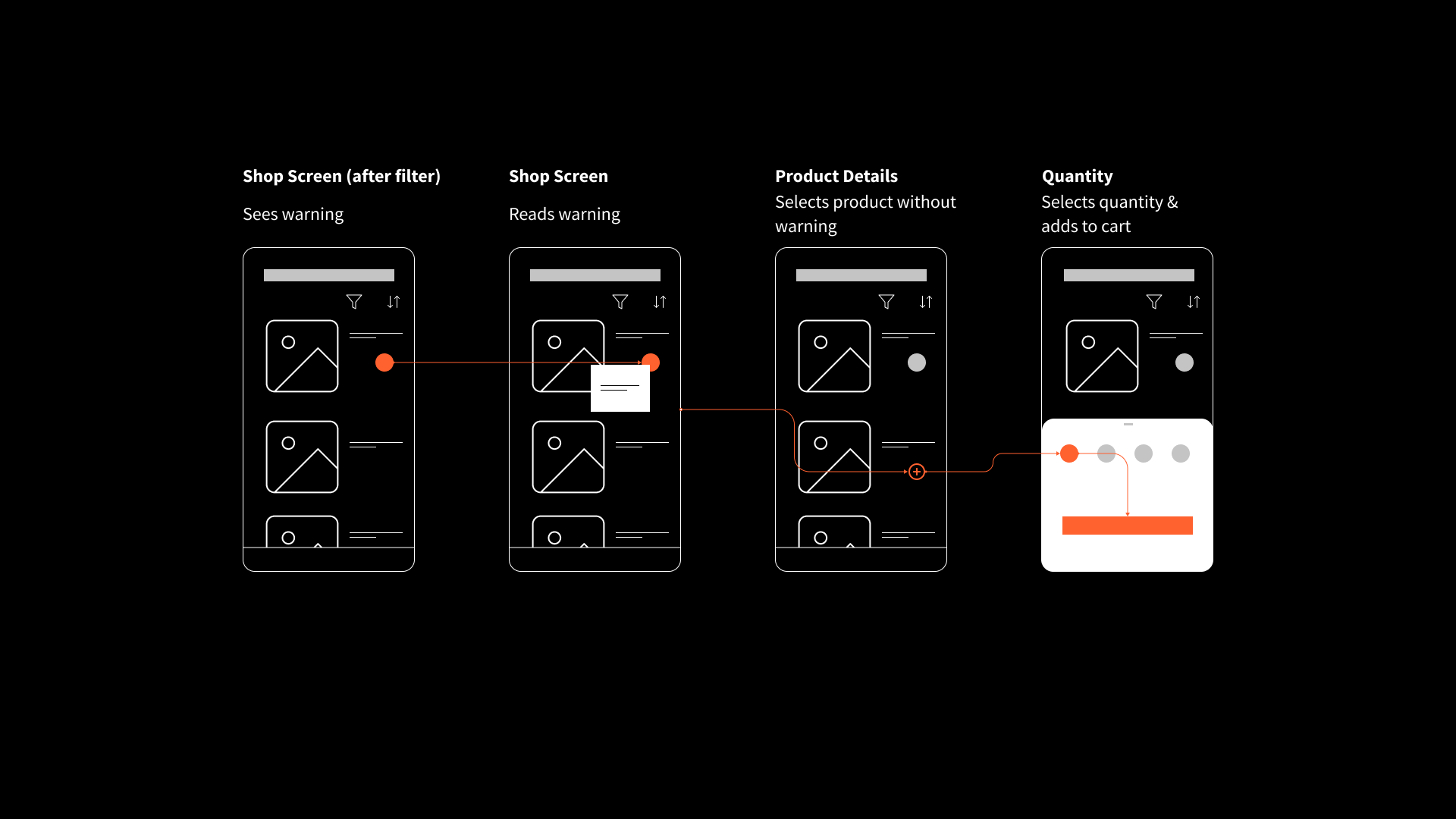 TASK FLOW
Detailed wire flows and usability tests helped to zero in on the key features for user and business needs.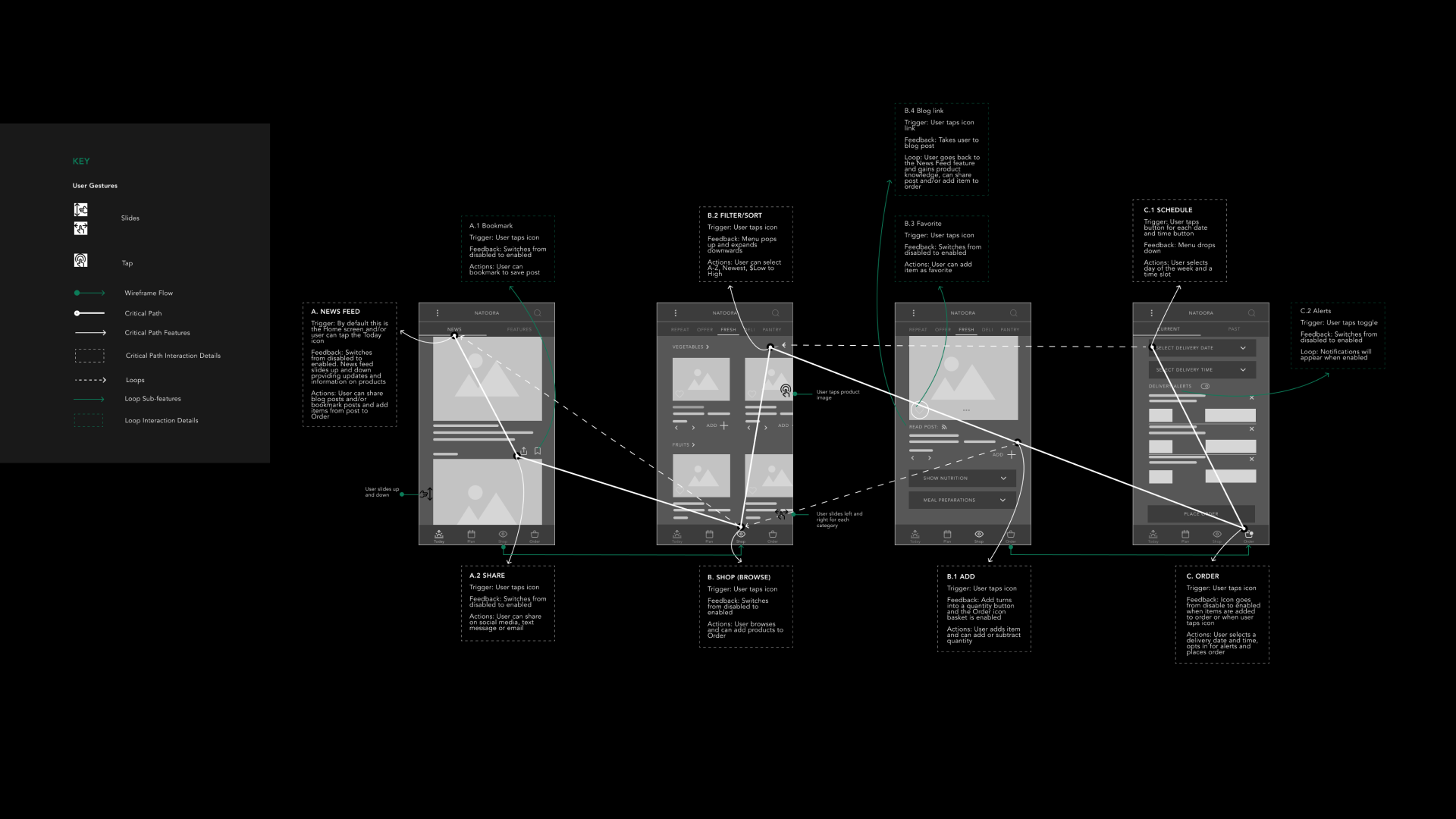 DETAILED MOBILE WIRE FLOW
PROTOTYPE EXPLORATIONS
Key Interactions
Essentials
After conducting usability tests, some key results helped with the final delivarable: improve upon reducing the cognitive load and encouragement for the new customer and provide alternate ways to filter for dietary needs.

The design audit helped to understand the basics of Natoora: typography, color, spacing, grid and buttons. To maintain consisitency I continued to stay with the similar card-based UI structure, but used iOS interface guidelines based on the large amount of Apple users in the US market.

BEFORE & AFTER
Navigation
Based off the findings, people rely on the their network to get knowledge about food. Customers can now save and share knowledge.
MOBILE WIREFRAMES
Sorting and filtering
With the increasing awareness of how food impacts our health and the environment, there needed to be a more personalized approach to finding content for the customers needs. Filtering and sorting were added to help aid navigation.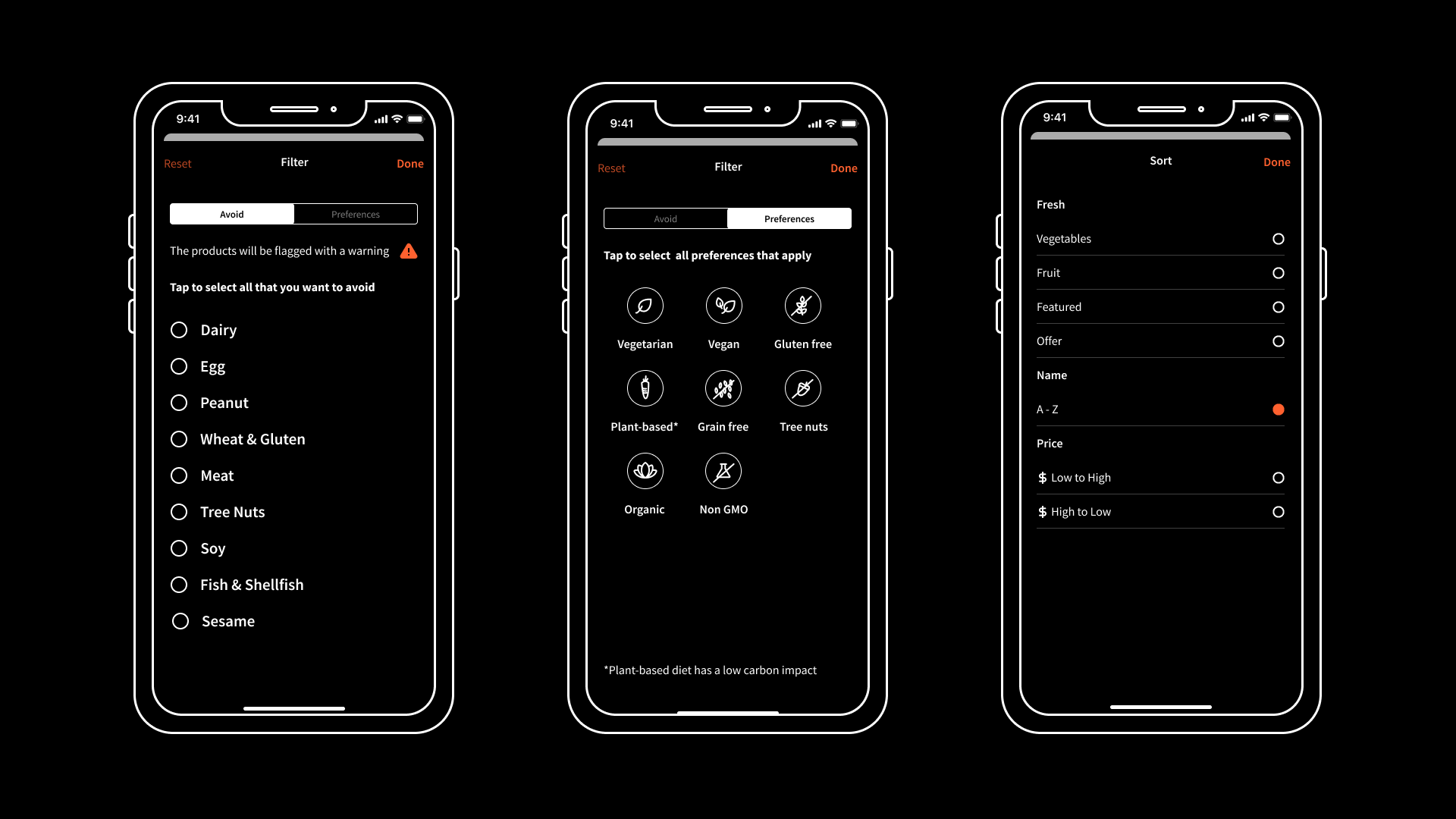 MOBILE WIREFRAMES
MOBILE WIREFRAMES
Checkout
In order to optimize for better conversion rates, there needed to be clear and visible feedback for the customer.
MOBILE WIREFRAMES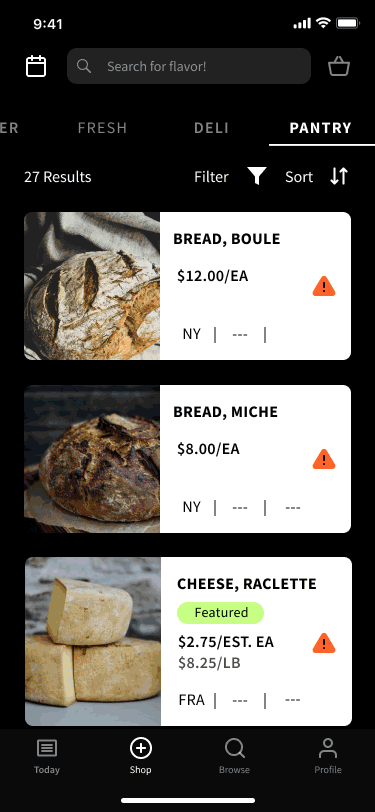 MOBILE WIREFRAMES
Importance of value & systems

Reflections
This process was long and complex and challenged the thought process to be more about how to provide value to a user opposed to just features and how a product functions.

The general public is not the typical customer for Natoora. There's more customer engagment involved. It's important to design for feedback and to continue to understand this user group as the design system will need to continue to evolve as Natoora evolves.

"It's definitely more fluid, I appreciate all the added details!"
- Current Natoora Customer